Rubber Sealing Tape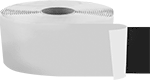 Patch and seal roofs, window frames, gutters, and vents with this conformable tape. Both sides have a tacky surface, so tape adheres to itself.
Butyl rubber tape is stretchier and more conformable than EPDM rubber tape.
Polyolefin/rubber blend tape adheres to most surfaces, including vinyl, fiberglass, PVC, wood, and tile. It can even be used on damp nonporous surfaces. This tape will not crack, harden, or shrink, so it's good for permanent leak repairs. When applying this tape in temperatures below 25° F, a seam primer is advised.
Wd.

Lg.,




ft.

Overall


Thick.

Adhesive
Type
Temperature


Range,

°F

Tensile

Strength,




lbs./in.

wd.

Adhesion
to Steel
Color
Each

Butyl Rubber Tape

3/8

"
25
0.125"
Self-Fusing
-45° to 200°
10
Not Rated
Black
00000000
000000

1/2

"
25
0.125"
Self-Fusing
-45° to 200°
10
Not Rated
Black
00000000
00000
1"
50
0.125"
Self-Fusing
-20° to 180°
10
Not Rated
Black
00000000
00000
1

1/2

"
50
0.125"
Self-Fusing
-20° to 180°
10
Not Rated
Black
00000000
00000
2

1/2

"
25
0.125"
Self-Fusing
-20° to 180°
10
Not Rated
Black
00000000
00000
4"
25
0.125"
Self-Fusing
-20° to 180°
10
Not Rated
Black
00000000
00000
8"
25
0.125"
Self-Fusing
-20° to 180°
10
Not Rated
Black
00000000
000000
12"
25
0.125"
Self-Fusing
-20° to 180°
10
Not Rated
Black
00000000
000000

Polyolefin/Rubber

Blend Tape

4"
25
0.035"
Self-Fusing
-20° to 180°
Not Rated
Not Rated
Black
0000000
00000
4"
25
0.035"
Self-Fusing
-20° to 180°
Not Rated
Not Rated
White
0000000
00000
6"
25
0.035"
Self-Fusing
-20° to 180°
Not Rated
Not Rated
Black
0000000
00000
6"
25
0.035"
Self-Fusing
-20° to 180°
Not Rated
Not Rated
White
0000000
00000

EPDM Rubber Tape

3"
25
0.075"
Self-Fusing
-40° to 180°
Not Rated
Not Rated
Black
00000000
00000
6"
25
0.065"
Self-Fusing
-20° to 180°
Not Rated
Not Rated
Black
0000000
00000
6"
25
0.065"
Self-Fusing
-20° to 180°
Not Rated
Not Rated
White
0000000
00000
9"
25
0.065"
Self-Fusing
-20° to 180°
Not Rated
Not Rated
Black
0000000
000000