Traction Chains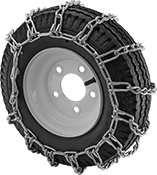 Durable steel chains keep you from spinning your wheels in snow and mud.
Chains for cars automatically adjust to the right tension as you drive, so they're easy to install and remove.
Chains for SUVs and trucks comply with NACM (National Association of Chain Manufacturer) specifications.
Also Available: Chains for other tire sizes. Please ask for 4991T999 and specify vehicle type and tire size.
For Tire Size
Includes
Pair

Garden

Tractor,

Snow Blower

15×6.00×6, 16×6.5×8
__
00000000
000000
23×8.5×12, 8×12
__
00000000
00000
4.00/4.80×8
__
00000000
00000

Forklift

27×8.50-15, 28×9-15, 28×9.50-15, 29×8-15, 7.00-15, 8.15-15
__
00000000
000000

Car

195/80-15, 215/55-17, 215/70-15, 225/50-17, 225/60-16
Carrying Case
00000000
000000
215/75-15, 225/60-17, 225/65-16, 235/55-17, 255/50-16
Carrying Case
00000000
000000
225/70R19.5, 245/75R17LT, 265/75R16LT, 31×10.50-15LT, P265/65R18, P265/70R16
__
00000000
000000