Corrosion-Resistant

Chain—

Not for Lifting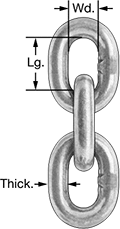 This chain withstands conditions that can deteriorate steel chain.
304 and 316 stainless steel chain are the most corrosion resistant. 316 stainless steel is more corrosion resistant than 304 stainless steel, so you can use it in food processing areas and environments where chemicals are used.
Light Duty
Tangle-Resistant

Smooth-Link

Chain—

Not for Lifting

The links have smooth sides to prevent the chain from snagging. Chain is highly flexible and resists kinking and tangling.
Zinc-plated steel chain has good corrosion resistance. Nickel- and brass-plated steel chain have excellent corrosion resistance.
For technical drawings and 3-D models, click on a part number.
Trade
Size
Metric
Trade Size

Thick.

Wd.

Lg.

Cap.,




lbs.

Approximate

No.


of Links per

ft.

For Fitting


Thick.

For Use
Outdoors

Lengths,

ft.

Per

Ft.

Unfinished Steel

5/64

2
0.08"
0.17"
0.50"
70
23

1/8

"
No
0000000
00000

5/64

2
0.08"
0.17"
0.50"
70
23

1/8

"
No
0000000
0000

5/64

2
0.08"
0.17"
0.50"
70
23

1/8

"
No
0000000
0000

5/64

2
0.08"
0.17"
0.50"
70
23

1/8

"
No
0000000
0000