Selecting the Right Carrier for Your Cable or Hose

Any-Which-Way

Enclosed Cable and Hose Carriers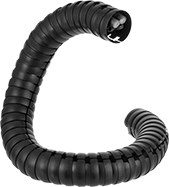 Carrier Shown with Cable Installed
Bending and twisting up to 380° in any direction, these carriers organize and protect cable and hose around machines that are constantly moving, such as robotic arms and conveyors. They're enclosed to keep out debris, making them better than open carriers for dusty environments, such as manufacturing facilities and distribution centers. Inside, there are channels to keep lines of cable and hose separate, reducing the wear they endure as these carriers move. Made of nylon, they resist solvents, fuels, and hydraulic and lubricating oils.
Lay cable and hose into these carriers, instead of feeding it through. Carriers with two channels have flexible openings, letting you push cable and hose straight into the channels. Carriers with three channels have snap-lock covers that flip open with a screwdriver for access to each channel. They're more resistant to dirt and impact than carriers with two channels.
Each length of carrier is made of many links, which you can add or remove for a precise fit. For carriers with a 2" bend radius, push them together or pull them apart with your hands. For carriers with a 7.2" bend radius, use a screwdriver to push down an internal bolt, then push them together or pull them apart manually. For all other carriers, add links by pushing them on, and remove them with a screwdriver or disassembly tool. Disassembly tools help you take links apart more quickly than you can with a screwdriver. They have a 90° tip that's sized to fit in the ball and socket joints of these carriers.
For extra protection from the environment, cover these carriers with flexible sleeving. The ID of the sleeve should be slightly larger than the OD of the carrier.
For technical drawings and 3-D models, click on a part number.