Selecting the Right Carrier for Your Cable or Hose

Dura-Guard

Enclosed Cable and Hose Carriers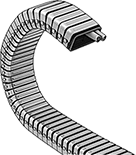 Carrier
Bands of corrosion-resistant stainless steel surround flexible nylon to make these the most durable, protective enclosed carriers we offer. By completely surrounding the cable and hose, these carriers protect cable and hose from dirt, chips, and debris. Feed cable and hose through these carriers. Remove the rivets in the links to make length adjustments.
Mounting brackets (sold separately) include fasteners.Brackets with diagonal flange can be attached with the mounting holes facing inside or outside the loop of the carrier.
Repair kit (sold separately) has two top and bottom stainless steel pieces, two center nylon pieces, and four connecting rivets.
For technical drawings and 3-D models, click on a part number.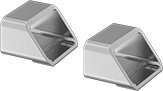 Brackets with Diagonal Flange

Brackets with Side Flanges

Brackets with Top and Bottom Flanges