Low-Profile

Channel-Guided

Roller Chain Tensioners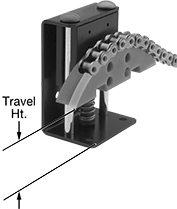 At less than 4" in height, these tensioners are good for use on low-clearance drives. Built-in springs put constant tension on roller chain to absorb and buffer shock, reduce vibration, and improve drive performance.
For technical drawings and 3-D models, click on a part number.
For Roller Chain
Trade
Size
Tension


Force,




lbs.

Travel


Ht.

Ht.

Wd.

Dp.

Material
Housing
Material

Dia.,


mm

No.


of
Mounting
Fasteners
Included

Max.




Temperature,




° F

Each

For

Single-Strand

ANSI Roller Chain

Vertical/Horizontal

Mount

25, 35
7-13
1.6"
3

25/32

"
2

25/32

"
1

1/4

"
Plastic
Steel
6
2
No
140°
000000
0000000
25, 35
13-29
1.6"
3

25/32

"
2

25/32

"
1

1/4

"
Plastic
Steel
6
2
No
140°
000000
000000
40
7-13
1.6"
3

25/32

"
2

25/32

"
1

1/4

"
Plastic
Steel
6
2
No
140°
000000
000000
40
13-29
1.6"
3

25/32

"
2

25/32

"
1

1/4

"
Plastic
Steel
6
2
No
140°
000000
000000
50
7-13
1.6"
3

25/32

"
2

25/32

"
1

1/4

"
Plastic
Steel
6
2
No
140°
000000
000000
50
13-29
1.6"
3

25/32

"
2

25/32

"
1

1/4

"
Plastic
Steel
6
2
No
140°
000000
000000
60
7-13
1.6"
3

25/32

"
2

25/32

"
1

1/4

"
Plastic
Steel
6
2
No
140°
000000
000000
60
13-29
1.6"
3

25/32

"
2

25/32

"
1

1/4

"
Plastic
Steel
6
2
No
140°
000000
000000