About
Backflow-Prevention

Valves
Threaded Check Valves for Harsh Chemicals
These valves open to allow flow in one direction and close when flow stops or reverses.
Valves for drinking water meet NSF/ANSI Standard 61.
Polypropylene valves are more corrosion resistant than PVC or CPVC valves.
Flow coefficient (Cv) is the amount of water (in gallons per minute) at 60° F that will flow through a fully open valve with a difference of 1 psi between the inlet and the outlet.
For technical drawings and 3-D models, click on a part number.

For Use

With:

Air,

Butane,

Carbon

Dioxide,

Citric

Acid,

Deionized

Water,

Diesel

Fuel,

Drinking

Water,

Ethanol,

Ethylene

Glycol,

Hydrochloric

Acid,

Isopropyl

Alcohol,

Kerosene,

Methanol,

Mineral

Spirits,

Natural

Gas,

Oil,

Oxygen,

Phosphoric

Acid,

Potable

Water,

Propane,

Salt

Water,

Soap

Solutions,

Sodium

Hydroxide,

Sodium

Hypochlorite,

Water
Ball

Material:

PVC Plastic
Seal

Material:

Fluoroelastomer Rubber
Pipe
Size

Flow
Coefficient


(Cv)

Max.


Pressure

Min.

Opening


Pressure,


psi
Temperature


Range,




°F

Color

End-to-End




Lg.

Specifications
Met
Each

NPT Female × NPT Female

1/4

1
150 psi @ 70° F
1.5
35° to 140°
Dark Gray
3"
ASTM D1784, NSF/ANSI 61
0000000
000000

3/8

3
150 psi @ 70° F
1.5
35° to 140°
Dark Gray
3"
ASTM D1784, NSF/ANSI 61
0000000
00000
3

250
150 psi @ 70° F
1.5
35° to 140°
Dark Gray
10

9/16

"
ASTM D1784, NSF/ANSI 61
0000000
000000
4

400
150 psi @ 70° F
1.5
35° to 140°
Dark Gray
12

15/16

"
ASTM D1784, NSF/ANSI 61
0000000
000000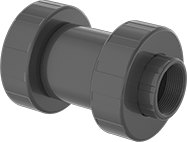 For Use

With:

Air,

Butane,

Carbon

Dioxide,

Citric

Acid,

Deionized

Water,

Diesel

Fuel,

Drinking

Water,

Hydrochloric

Acid,

Isopropyl

Alcohol,

Kerosene,

Mineral

Spirits,

Natural

Gas,

Nitric

Acid,

Oxygen,

Phosphoric

Acid,

Potable

Water,

Propane,

Salt

Water,

Soap

Solutions,

Sodium

Hydroxide,

Sodium

Hypochlorite,

Sulfuric

Acid,

Water
Ball

Material:

CPVC Plastic
Seal

Material:

Fluoroelastomer Rubber
Pipe
Size

Flow
Coefficient


(Cv)

Max.


Pressure

Min.

Opening


Pressure,


psi
Temperature


Range,




°F

Color

End-to-End




Lg.

Specifications
Met
Each

NPT Female × NPT Female

3

250
150 psi @ 70° F
1.5
35° to 190°
Dark Gray
10

9/16

"
ASTM D1784, NSF/ANSI 61
0000000
0000000
4

400
150 psi @ 70° F
1.5
35° to 190°
Dark Gray
12

15/16

"
ASTM D1784, NSF/ANSI 61
0000000
00000000
Polypropylene Plastic Body—Ball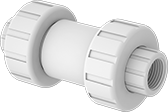 For Use

With:

Air,

Ammonia,

Butane,

Carbon

Dioxide,

Citric

Acid,

Deionized

Water,

Drinking

Water,

Ethanol,

Ethylene

Glycol,

Isopropyl

Alcohol,

Kerosene,

Methanol,

Natural

Gas,

Oil,

Oxygen,

Phosphoric

Acid,

Potable

Water,

Salt

Water,

Soap

Solutions,

Sodium

Hydroxide,

Water
Ball

Material:

Polypropylene Plastic
Seal

Material:

Fluoroelastomer Rubber
Pipe
Size

Flow
Coefficient


(Cv)

Max.


Pressure

Min.

Opening


Pressure,


psi
Temperature


Range,




°F

Color

End-to-End




Lg.

Specifications
Met
Each

NPT Female × NPT Female

1/2

4.8
150 psi @ 70° F
1.5
35° to 200°
White
4

5/8

"
ASTM D4101, NSF/ANSI 61
0000000
000000

3/4

7.7
150 psi @ 70° F
1.5
35° to 200°
White
4

3/4

"
ASTM D4101, NSF/ANSI 61
0000000
000000
1

11
150 psi @ 70° F
1.5
35° to 200°
White
5

1/4

"
ASTM D4101, NSF/ANSI 61
0000000
000000
1

1/2

45
150 psi @ 70° F
1.5
35° to 200°
White
6

3/4

"
ASTM D4101, NSF/ANSI 61
0000000
000000
2

130
150 psi @ 70° F
1.5
35° to 200°
White
8"
ASTM D4101, NSF/ANSI 61
0000000
000000