Quick-Change

Large-Diameter

Machine-Your-Own

5C Collets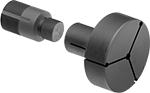 Body and Head Sold Separately
Save time when switching to a new workpiece by changing out the head instead of the entire collet. Also known as step collets, their wide head can be machined to hold large workpieces that won't fit in a standard collet.
Overall length refers to the length of the collet when the head is assembled with the required 5C body (sold separately).
For technical drawings and 3-D models, click on a part number.