About Safety Ratings for Electrical Testing
Circuit Breaker Identifiers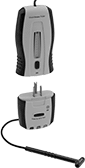 120V AC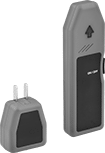 Identify the circuit breaker connected to an electrical receptacle. The transmitter plugs into the receptacle and sends a signal through the cable to the receiver. Move the receiver over the breakers, and light and sound alerts indicate when you find the correct breaker.
Circuit breaker identifer adapter kit traces breakers for light bulb sockets and switches.
AC
Voltage
Alert
Type
Includes
Plug
Type
Specifications
Met
Included
Size

No.


Required
Each
Each
120
Light, Sound
Transmitter, Receiver, Test Probe
Three Prong
UL Listed, C-UL Listed

No
9V
1
00000000
000000
00000000
000000
90-250
Light, Sound, Vibration
Transmitter, Receiver, Adapter Kit, Connection Cable
Two Prong
UL Listed, C-UL Listed

Yes
9V
1
00000000
000000
000000
00
Circuit Tracers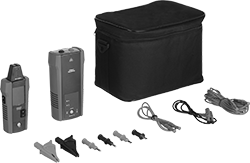 Circuit Tracer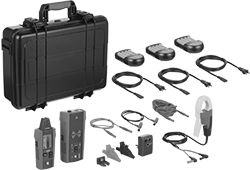 High-Resolution
Circuit Tracer
Locate cables behind walls, check for continuity, and identify circuit breakers. Connect the transmitter to an electrical receptacle or cable to send a signal to the receiver, which identifies the path of the cable or the correct breaker with a digital display, indicating lights, and sound alerts.
High-resolution circuit tracers have a receiver with adjustable sensitivity, so they can pinpoint the transmitter's signals from a greater distance than standard circuit tracers.
Tester
Style
Measures
For


Max.




Dp.,

ft.

Alert
Type
AC
Voltage
DC
Voltage
Includes
Test
Lead


Lg.

Batteries
Included
Each
Circuit Tracer
Breakers, Buried Lines, Continuity, Data Cable Location, Fuses, Ground Faults, Shorts, Wire Location
3
Light, Sound, Digital Display
0-600
0-600
Transmitter, Receiver, Fabric Carrying Case, Alligator Clips, Test Leads, Electrical Outlet Adapter
32"
Yes
00000000
0000000
High-Resolution Circuit Tracer
Breakers, Buried Lines, Continuity, Data Cable Location, Fuses, Ground Faults, Shorts, Wire Location
3
Light, Sound, Digital Display
9-600
9-600
Transmitter, Clamp-On Current Transducer, Hard Carrying Case, Alligator Clips, Receiver with Sensitivity Adjustment, Rechargeable Batteries, Socket Adapter, Test Leads, Battery Chargers
32"
Yes
00000000
00000000