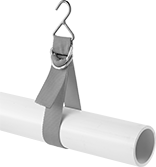 A versatile solution for temporary hanging of pipe and tubing at work sites as well as anywhere welding and fastening are not possible. Feed material through the strap, then use the D-rings to adjust the hanging height. Straps are polypropylene to prevent scratching on soft pipe and tubing. D-rings are galvanized steel for good corrosion resistance.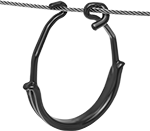 Hang cable and other flexible material beneath wire to prevent it from sagging and swaying. Rings are made of rigid, plastic-coated steel. The plastic coating prevents damage to wire and cable. To install, hook the two ends of the ring around the wire—no fasteners required.
For technical drawings and 3-D models, click on a part number.
Carabiner-Mount

Hook and Loop Cable Ties