Pass-Through

Windows for Clean Rooms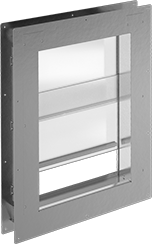 Window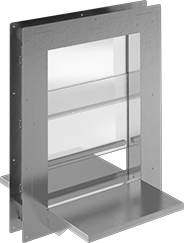 Window with Shelves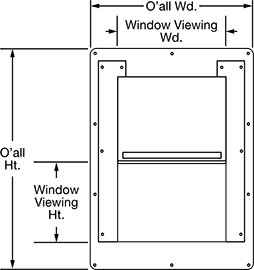 Pass materials and goods through these windows to limit the amount of people entering your clean room, which reduces the risk of contamination. They're often used between manufacturing clean rooms and packaging rooms. With a stainless steel frame, they stand up to frequent cleanings without rusting. They mount flush in standard thickness walls.
Manual windows slide up easily using only your fingertip.
Automatic windows have motion sensors on both sides to open without any touching. Plug them into an outlet; there's no need for hardwiring.
Windows with shelves let you leave materials on either side for pickup later.
For technical drawings and 3-D models, click on a part number.
For
Wall
Thickness
Height
Width
Height
Width
Height
Width
Shelf
Width


(Shelf Depth)

Voltage
Range
Power
Cord


Length,

ft.

For
Use
Outdoors
Mounting
Fasteners
Included
Number
of
Thread
Size
Each

Stainless Steel

Manual

4

3/4

"-5"
44

1/4

"
31

1/2

"
48

3/4

"
36"
18"
24"
__
__
__
No
No
20
No. 14
0000000
000000000

Manual with Shelves

4

3/4

"-5"
44

1/4

"
31

1/2

"
48

3/4

"
36"
18"
24"
24" (14"), 24" (14")
__
__
No
No
20
No. 14
0000000
00000000

Automatic

4

3/4

"-5"
50"
31

1/2

"
54

1/2

"
36"
18"
24"
__
120V AC-240V AC
6
No
No
20
No. 14
0000000
00000000

Automatic with Shelves

4

3/4

"-5"
38

1/2

"
25"
54

1/2

"
36"
18"
24"
24" (20"), 24" (15")
120V AC-240V AC
6
No
No
10
No. 14
0000000
00000000