DFARS (Defense Acquisition Regulations Supplement)

DFARS

(Defense

Acquisition
Regulations

Supplement)
Eraser Sponges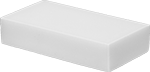 No need for special cleaners—just add water and these sponges are ready to remove ground-in dirt from walls, doors, floors, and more. Clean with simple rubbing action. Sponges are reusable; rinse after each use and let air dry.
Lg.

Wd.

Ht.

Color

Pkg.




Qty.

1-6

7-Up

4

3/4

"
2

3/8

"
1"
White
6
0000000
00000
00000
Hand-Held

Sanding Abrasive Cleaners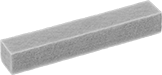 Remove material buildup from the abrasive surface of a moving belt or roll, extending the service life.
Lg.

Wd.

Thick.

Each
6"
1

3/8

"
1

3/8

"
0000000
000000