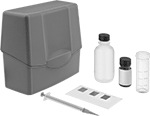 Analog
Digital
All the chemicals and labware you need for on-site sampling and water-quality testing.
Digital kits offer simpler and more accurate testing than analog kits. While analog kits require you to visually match color against a chart, these kits electronically measure color for you, even in dim lighting. The digital screen shows you a precise measurement.
Water-Quality

Combination Test Kits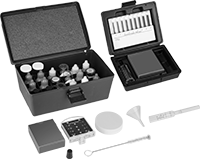 Test for contaminants before installing water-treatment equipment such as boilers and filters. You can also check your pipes and equipment for improper chemical levels that can cause corrosion and scale buildup, shortening their life.
340-test kits include tests for monitoring municipal water, which is often treated with chlorine.
290-test kits include tests that help you monitor well water, which often contains sulfur compounds.
For
Testing
Range
Test
Type
Number
of
Tests
Each
Each
Hardness

Iron

Chlorine

pH

Total Dissolved Solids (TDS)

Total; 0-30 gpg
Analog
120
0000000
0000000
0000000
000000
Hardness

Iron

Hydrogen Sulfide, Sulfide

Total Dissolved Solids (TDS)

Total; 0-30 gpg
Analog
120
0000000
000000
0000000
00000