Computer Cleaners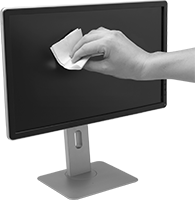 Screen Cleaning Pad
Cleaning Wipes for Electronic Components

Clean fingerprints, uncured epoxy residue, flux, and light oils off printed circuit boards and electronic connectors. These saturated wipes won't leave behind residue.
Container
Type

Lg.

Wd.

Wipes
per
Container
Composition
Harshness
For
Use
On
For
Removing
Primary
Chemical
Each
Each
Canister
8"
5"
100
Solvent Based
Moderate
Aluminum, Ceramic, Chrome, Fiberglass, Galvanized Steel, Painted Surfaces, Plastic, Porcelain, Rubber, Stainless Steel, Steel
Dirt, Dust, Epoxy, Fingerprints, Flux, Grease/Oil
Isopropyl Alcohol (70%)
0000000
000000
0000000
000000
Cleaning Wipes for Electronics

Wipe dust, dirt, and fingerprints off laptops, keyboards, televisions, mobile devices, and other electronic equipment. These saturated wipes won't streak or leave behind lint. They are also free of flammable or harsh chemicals, such as isopropyl alcohol and ammonia.
Each
Container
Type

Lg.

Wd.

Wipes
per
Container
Composition
Harshness
For
Use
On
For
Removing
Each

Wipe

Canister
8"
7"
30
Water Based
Mild
Glass, Plastic
Dirt, Dust, Grease/Oil, Static
0000000
00000
Package
Container
Type

Lg.

Wd.

Wipes
per
Container
Composition
Harshness
For
Use
On
For
Removing

Pkg.




Qty.

Pkg.

Wipe

Canister
8"
7"
30
Water Based
Mild
Glass, Plastic
Dirt, Dust, Grease/Oil, Static
4
0000000
000000