Protectors for Robot Teach Pendants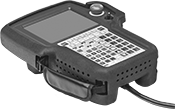 Drop, scrape, or spill on your robot teach pendants (also known as HMIs)—these protectors will guard them, preventing downtime due to damage. With a size and shape tailored to your teach pendant, each protector fits snugly without blocking buttons or other features.
All cases cover the back and sides of teach pendants. Made of Santoprene rubber, they resist water and most water-based cleaners, as well as many industrial coolants, lubricants, and cutting fluids. Their textured surface makes them easy to grip, even when they're wet.
Cases with a mounting handle have a handle that doubles as a hanger, so you can easily mount them on equipment or walls.
Cases with a mounting hook include everything you need to replace the original hook on your electronics cabinet, which may not fit with the case around the pendant.
Cases with a cradle adapter allow teach pendants to fit snugly into their original holder, despite the added bulk of the case.
Screen protectors guard against scratches, oils, and greases without disrupting touch-screen functionality.