Heavy Duty Electronics Cabinets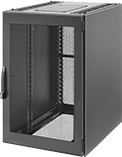 These cabinets accommodate up to 3,200 lbs. of equipment and have larger interiors than standard electronics cabinets. Use them to house large-size automation controls, data communication, and networking equipment. The front and rear doors are perforated for ventilation and visibility. Both doors are lockable and include two keys. They are keyed alike (all open with the same key). Cabinets have two sets of depth-adjustable mounting rails and an open bottom for cable exit as well as ventilation.
Shelves can be mounted at any level.
Ht.

Wd.

Dp.

Environment
Environmental
Rating
Component
Mount
Type
For
Component


Wd.

Features
Specifications
Met
Color
Each
Each

Painted Steel

47

1/4

"
31

1/2

"
39

1/2

"
Indoor Only
NEMA 12
Rails
19"
Four Leveling Feet
Open Bottom
Perforated Doors
Removable Locking Sidewalls
Top-Cable Access Panel
UL Listed

Black
00000000
000000000
00000000
0000000
78

3/4

"
23

5/8

"
39

1/2

"
Indoor Only
NEMA 12
Rails
19"
Four Leveling Feet
Open Bottom
Perforated Doors
Removable Locking Sidewalls
Top-Cable Access Panel
UL Listed

Black
00000000
00000000
00000000
000000