Glass Beakers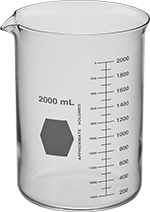 Cap.

Dia.

Ht.

Graduation
Marks
Color

Max.




Temp.,

°F

Autoclavable
Features
Each

Borosilicate Glass

Without Handle

5.1 oz. / 150 ml
2

1/4

"
3

1/4

"
20 ml
Clear
840°
Yes
Write-On Label
000000
00000
Crucibles

B
Mix and melt small quantities of powders and chemicals.
Use marking ink (sold separately) to identify porcelain crucibles in high-heat applications. The marked surface must be heat-treated to become permanent. Apply this ink with a pen or a brush.

B
ml

oz.

Diameter
Height
Color
Maximum


Temperature,

°F

Autoclavable
Each

Porcelain

150
5.1
3

3/8

"
2

1/8

"
White
2100°
No
0000000
000000
Filled Butane Canisters

Butane burns cleaner than propane at similar temperatures. Use it in heating, thawing, and soldering applications. These canisters cannot be sold to Canada due to local regulatory limits on carbon based fuels.
Capacity,




oz.

Refillable
Outlet Connection Type
Specifications Met
Cannot Be
Sold To
Each
5.1
No
Spring-Loaded Stem
D.O.T. UN1075
Canada
000000
00000