Large-Capacity

Containers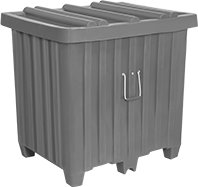 B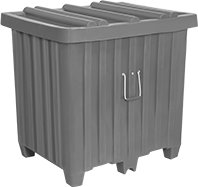 B
Capacity,




lbs.

Wd.

Dp.

Ht.

Wd.

Dp.

Thick.

Color

No.

of Entry
Points for
Forklifts

Max.


Fork
Height
Space
Saving
Features

Max.

No.

of
Stackable
Units
Lid
Type
Features
Each

Polyethylene Plastic

800
42"
34"
42"
37"
29"

3/16

"
Blue
2
4"
Nestable, Stackable
2
Loose Fitting
Handles
00000000
0000000
Electronics Cabinets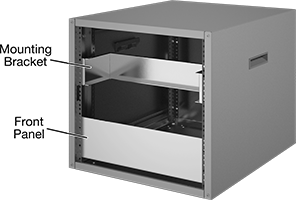 Cabinet Shown with Mounting Bracket and Front Panel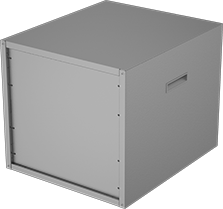 Cabinet Shown with Rear Panel
House and organize up to 800 lbs. of components such as servers, automation controls, and computers. All are compatible with standard 19" wide components.
Front panels cover gaps between components.
Rear panels cover the entire back of the cabinets and can be removed to perform repairs and maintenance.
Use mounting brackets to secure lightweight accessories, such as routers, that can't mount directly to cabinet rails because they're less than 19" wide. They leave the bottom of accessories exposed, which can make accessing them easier. To attach accessories, add your own mounting holes—these brackets are thin enough to drill through easily.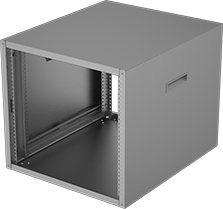 Cabinet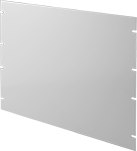 Rear Panel
Ht.

Wd.

Dp.

Environment
Component
Mount
Type
Component
Mounting
Fasteners Included
Features
Each
Each

Steel

16"
21"
24

1/2

"
Indoor
Rails
Yes
Handles, Rubber Feet
0000000
0000000
0000000
000000
19

1/2

"
21"
24

1/2

"
Indoor
Rails
Yes
Handles, Rubber Feet
0000000
000000
0000000
00000
30"
21"
24

1/2

"
Indoor
Rails
Yes
Handles, Rubber Feet
0000000
000000
0000000
000000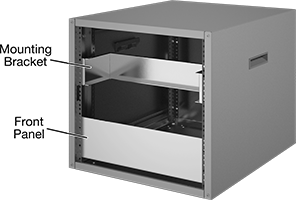 Cabinet Shown with Mounting Bracket and Front Panel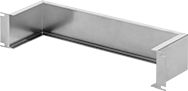 Mounting Bracket