High-Pressure

Coolant Arms

A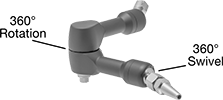 B
Swivel the ball-socket connections to position these arms and then lock them in place with the included hex key. With a maximum pressure of 1,000 psi, these arms deliver a high-pressure stream to cool metal and remove chips most efficiently.
Style B has a pivot joint in the middle that can be set at any angle.
For technical drawings and 3-D models, click on a part number.
Style

O'all




Lg.

Orifice


Dia.

Max.

Flow


Rate,


gpm

@ 30


psi

@ 200


psi

@ 1,000


psi
Spray
Pattern
Body
Nozzle
Fitting

Max.




Temp.,




°F

Each

For Use With

Air,

Coolant,

Cutting

Oil,

Water

1/4

NPT Female Pipe

A
7.72"
0.16"
70
4 gpm
8 gpm
66 gpm
Stream
Aluminum
Aluminum
Stainless Steel
155°
000000
0000000
B
10.63"
0.16"
70
4 gpm
8 gpm
66 gpm
Stream
Aluminum
Aluminum
Stainless Steel
155°
000000
000000