How to

Identify and Measure Fittings
Pipe size is an industry designation, not the actual size. View information about how to measure threaded and unthreaded pipe and pipe fittings.
Plastic
Push-to-Connect

Fittings for Copper Tubing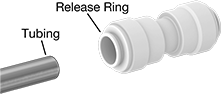 For Use

With:

Drinking Water
Temperature

Range:

35° to 180° F

Tubing:

Use with

K,

M,

L

copper,

polyethylene plastic
Specifications

Met:

NSF/ANSI 61
Made of plastic, these fittings are lighter than our brass push-to-connect fittings. They connect to copper tubing with a push—no heat, solder, or flux required. They have an internal gripping ring and O-ring that hold the fitting secure. To disconnect, push on the release ring and pull the tubing out of the fitting. They are also known as instant fittings. Fittings come with a tube support if you want to use them with polyethylene plastic (PEX) tubing. They meet NSF/ANSI 61 safety standards for use with drinking water systems.
Copper tube size is the accepted designation of the copper tubing industry, not the actual tube OD.
For technical drawings and 3-D models, click on a part number.
90° Elbow Adapters, Tube × Male Threaded Pipe
Copper
Tube Size
For Tube
OD
Pipe
Size

Material
Color
Release
Ring Material
Release
Ring Color

Max.

Pressure
Each

NPT Threads

1/2

5/8

"

3/8

Polysulfone Plastic
White
Plastic
White
250 psi @ 72° F
0000000
00000

1/2

5/8

"

1/2

Polysulfone Plastic
White
Plastic
White
250 psi @ 72° F
0000000
0000
1
1

1/8

"
1

Polysulfone Plastic
White
Plastic
White
250 psi @ 72° F
0000000
00000
90° Elbow Connectors, Tube

Copper
Tube Size
For Tube
OD
Material
Color
Release
Ring Material
Release
Ring Color

Max.

Pressure
Each

3/8

1/2

"
Polysulfone Plastic
White
Plastic
White
250 psi @ 72° F
0000000
000000

1/2

5/8

"
Polysulfone Plastic
White
Plastic
White
250 psi @ 72° F
0000000
00000

3/4

7/8

"
Polysulfone Plastic
White
Plastic
White
250 psi @ 72° F
0000000
00000
1
1

1/8

"
Polysulfone Plastic
White
Plastic
White
250 psi @ 72° F
0000000
00000