Cotton Fabric Sheets and Strips

Also known as cotton duck and canvas, this fabric can be used as dust covers, drop cloths, and straps.
Off-white fabric is unbleached. White fabric has been bleached.
Water-Repellent

Cotton Fabric Sheets

Saturated with wax, these sheets also have a polyester coating on one side to resist corrosion and moisture. Protect piping and wrap irregularly shaped objects with this very flexible fabric. It adheres to itself but can be separated easily.
Flame-Resistant

Cotton Fabric Sheets

This cotton fabric is treated to resist flames, allowing it to meet Canvas Products Association International CPAI-84, Section 6. Use as tarps.
Pipe Insulation Repair Strips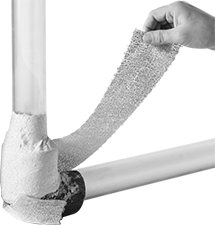 Max.

Temperature:

900° F

Density:

See table

Color:

White
Specifications

Met:

ASTM E84
Protect and repair insulation with this cotton fiber and resin mesh. For small sections, dip the strip in warm water for five seconds then install. For large sections, apply dry to piping and spray with water. Strips harden in 10 minutes. Once hardened, they can be painted.