Lightweight Flexible Shaft Couplings

Components of a Coupling Shown Assembled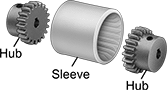 (Each
Component Sold
Separately)
Made with lightweight nylon sleeves, these gear couplings require less energy to move than other high-torque flexible couplings. They compensate for parallel, angular, and axial misalignment. Fasten to your shafts by tightening the set screws, which bite into the shaft to hold it.
A complete coupling consists of two hubs and one sleeve (each component sold separately).
For technical drawings and 3-D models, click on a part number.
O'all




Lg.

OD
For
Motion
Type
For
Shaft


Dia.

Each

Max.




Speed,


rpm

Max.




Torque,




in.-lbs.

Parallel
Angular
Axial

Max.




Temp.,




°F

Each
35.6mm
53.8mm
Continuous
26mm
0000000
000000
8,500
1,195
0.016"
1°
0.04"
180°
0000000
000000
35.6mm
68.6mm
Continuous
26mm
0000000
00000
6,700
2,120
0.016"
1°
0.04"
180°
0000000
00000
45.7mm
77.7mm
Continuous
26mm
0000000
00000
5,600
3,715
0.016"
1°
0.04"
180°
0000000
00000
70.1mm
110mm
Continuous
26mm
0000000
000000
4,000
10,080
0.016"
1°
0.04"
180°
0000000
00000