How to

Identify and Measure Fittings
Pipe size is an industry designation, not the actual size. View information about how to measure threaded and unthreaded pipe and pipe fittings.
O-Ring

Face Seal Fittings for Steel Tubing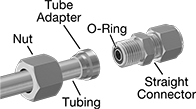 For Use

With:

Air,

Hydraulic Fluid
Temperature

Range:

-30° to 250° F,

except BSPP fittings are

-20° to 230° F

Tubing:

Use with seamless steel
Specifications

Met:

SAE J1453
A tube adapter sits flush against the flat face of the fitting so you can slide the tubing and fitting sideways to disconnect in cramped spaces. Fittings are also known as zero-clearance fittings. To install, weld a tube adapter to the tubing with a brazing ring (sold separately), then mate the tube adapter to the fitting and screw on the nut. As the nut is tightened, the tube adapter compresses the O-ring, creating a strong seal. Fittings are zinc-plated steel for fair corrosion resistance. Nuts and tube adapters are sold separately.
For technical drawings and 3-D models, click on a part number.