Fuel-Resistant

Heat-Shrink

Tubing

Material:

Polyester/Rubber

Blend
Shrink

Ratio:

2:

1
Dielectric

Strength:

300

V/mil

Shrink

Temperature:

350° F

Temperature

Range:

-100° to 300° F

Specifications

Met:

SAE AMS-DTL-

23053/16
Resistant to diesel fuel, hydraulic fluid, and lubricating oil, this polyester/rubber blend tubing is often used in vehicles. It meets SAE AMS-DTL-23053/16 for material quality.
Dielectric strength is the maximum voltage a material can handle before it starts to breakdown.
Harsh Environment
Heat-Shrink

Tubing Assortments
Maintain a supply of tubing in a variety of sizes and materials that withstands harsh conditions such as abrasion, moisture, and chemicals.
Polyester/rubber tubing is chemical resistant.
Neoprene rubber tubing resists chemicals, oil, and acids.
Viton® fluoroelastomer rubber tubing resists chemicals, oil, acids, and abrasion.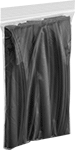 Plastic Bag
Includes
Number
of
Pieces

Lg.

Shrink
Ratio
Shrink


Temperature,




°F

Features
Color
Each
0.19-0.75" ID Before Shrinking of Polyester/Rubber Blend (5 pieces, 5 sizes)
0.19-0.75" ID Before Shrinking of Neoprene (5 pieces, 5 sizes)
0.19-0.75" ID Before Shrinking of Viton® Fluroelastomer Rubber (5 pieces, 5 sizes)
15
2"
2:1
250° to 350°
Chemical Resistant
Black
00000000
000000