Crucibles

F
Mix and melt small quantities of powders and chemicals.
High-purity alumina crucibles stand up to alkalies and other flux. They also withstand higher temperatures than porcelain and PTFE plastic crucibles, making them best for high heat applications.

F
ml

gal.

Diameter
Height
Color
Maximum


Temperature,

°F

Autoclavable
Each
4,750
1.25
7"
9"
White
3100°
No
0000000
000000000
Disposable Pails
These single-use pails are often used to mix paint.
A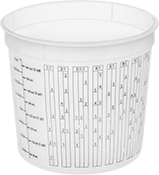 D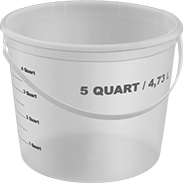 E
Each
Capacity

Dia.

Ht.

Bottom
ID
Graduation
Marks
Color
Autoclavable

Max.

Temp.,

°F

Each

Paper

A
1

1/4

gal.
8

3/4

"
8

1/4

"
6

1/8

"

1/2

qt.
White
No
Not Rated
00000000
00000

HDPE Plastic

D
1

1/4

gal.
8

3/4

"
7

1/4

"
7"
16 oz., 0.5 L
White
No
160°
0000000
0000

Polyethylene Plastic

E
1

1/4

gal.
8

3/4

"
7"
6

7/8

"
16 oz., 0.5 L
Semi-Clear
No
120°
0000000
0000
Package
Capacity

Dia.

Ht.

Bottom
ID
Graduation
Marks
Color
Autoclavable

Max.

Temp.,

°F

Pkg.




Qty.

Pkg.

Paper

A
1

1/4

gal.
8

3/4

"
8

1/4

"
6

1/8

"

1/2

qt.
White
No
Not Rated
25
00000000
000000

HDPE Plastic

D
1

1/4

gal.
8

3/4

"
7

1/4

"
7"
16 oz., 0.5 L
White
No
160°
50
0000000
000000

Polyethylene Plastic

E
1

1/4

gal.
8

3/4

"
7"
6

7/8

"
16 oz., 0.5 L
Semi-Clear
No
120°
36
0000000
00000