Glass Beakers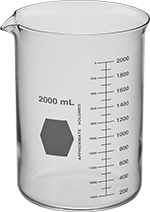 Beakers
Cap.

Dia.

Ht.

Color

Max.




Temp.,

°F

Autoclavable
Features
Each

Borosilicate Glass

Beakers

0.34 fl. oz. / 10 ml
1"
1

3/8

"
Clear
840°
Yes
Write-On Label
000000
00000
Crucibles

A

C

D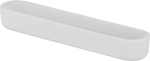 G
Mix and melt small quantities of powders and chemicals.
High-purity alumina crucibles stand up to alkalies and other flux. They also withstand higher temperatures than porcelain and PTFE plastic crucibles, making them best for high heat applications.
Optional lids are sold separately.
Plastic Graduated Cylinders

A

B
Precisely measure and pour liquids.
Style
ml

fl.




oz.

Dia.

Ht.

Mouth
ID
Graduation
Marks
Color

Max.




Temp.,




°F

Autoclavable
Specifications
Met
Each

Polymethylpentene Plastic

A
10
0.34

9/16

"
5

1/2

"

7/16

"
0.2 ml
Clear
275°
Yes
DIN 12680 TT Class B, ISO 6706
0000000
00000

Polypropylene Plastic

B
10
0.34

9/16

"
5

1/2

"

7/16

"
0.2 ml
Semi-Clear White
275°
Yes
DIN 12680 TT Class B, ISO 6706
000000
0000
Glass Graduated Cylinders

A
Style
ml

fl.

oz.

Dia.

Ht.

Mouth
ID
Graduation
Marks
Color

Max.




Temp.,

°F

Autoclavable
Specifications Met
Each

Borosilicate Glass

A
10
0.34

5/8

"
5

3/8

"

1/2

"
0.2 ml
Clear
300°
Yes
ASTM E1272 Class B
0000000
000000