Metal Beakers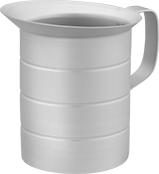 B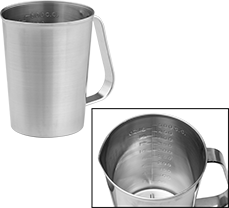 E
Beakers that meet NSF/ANSI 2 comply with a sanitary standard for food equipment.
Plastic Beakers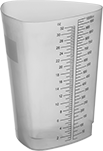 A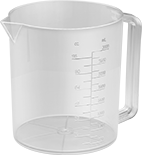 F
Food Industry Plastic Beakers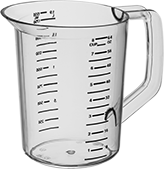 B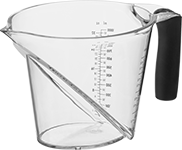 C
Style A and B beakers meet NSF/ANSI 2 sanitary standards for food equipment.
Style C and D beakers have graduations that can be read from above.
Beakers that cannot be sold to the regions listed are restricted by local regulatory limits on BPA (Bispenol A) in products that come into contact with food.
Style

Cap.

Dia.

Ht.

Graduation
Marks
Color

Max.




Temp.,




°F

Autoclavable
Specifications
Met
Space
Saving
Features
Cannot
Be
Sold To
Each

Polycarbonate Plastic

B
32 fl. oz. / 950 ml
4

3/8

"
5

7/8

"
8 oz. /

1/2

cup / 200 ml
Clear
212°
Yes
NSF/ANSI 2

__
CT, VT
0000000
000000

PET Plastic

C
32 fl. oz. / 950 ml
5

3/4

"
5

1/4

"
1 oz. /

1/4

cup / 50 ml
Clear
190°
No
__
Nestable
__
0000000
00000
Food Industry Glass Beakers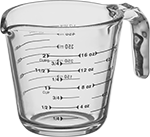 fl.




oz.

ml

Dia.

Ht.

Graduation Marks
Color

Max.




Temp.,

°F

Autoclavable
Each
32
950
6"
4"

1/3

cup / 50 ml
Clear
445°
No
000000
000000