About Paint and Protective Coatings
Paint for Plastic

This paint adheres to most types of plastic without sanding or priming.
Safety-color paint comes in colors approved by OSHA to color-code safety equipment locations, physical hazards, and protective equipment. Safety red indicates danger and is often used on fire protection equipment, containers for flammable liquid, and switches on machinery. Safety orange indicates hazards and is often used on warning signs, construction equipment, and unguarded edges. Safety yellow indicates caution and is often used on tripping hazards, exposed edges, and start buttons. Safety green indicates general safety and is often used to identify first aid kits and other medical equipment and to explain safety procedures. Safety blue is used on "out of order," "employees only," and other general-information signs.
Gray, safety blue, safety green, and tan cannot be sold to Canada due to local chemical regulations.
Container


Size,




oz.

Composition
Formulation

Touch,




min.

O'all,




hrs.

Approx.


Coverage
@

Thick.

Max.




Temp.,




°F

For
Use
Outdoors
For
Use
On
Choose
a Color


(Appearance)

1-5

6-Up

12
Solvent Based
Alkyd
20
24
10 sq. ft. @ 1.5 mil
90°
Yes
ABS Plastic, PVC Plastic, Vinyl Plastic
0000000
00000
00000
Smoothing and Protective Coatings for
3D-Printed

Plastics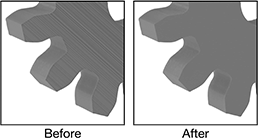 Unlike other processes that remove surface ridges on 3D-printed parts, these coatings hide them for a smooth, glossy, heat- and impact-resistant finish. Mix this two-part coating and apply it to your parts—a small amount will cover a lot. The coating spreads uniformly without leaving stroke marks, making parts smooth enough to use as a mold, or they can be sanded, primed, or painted for further finishing work.
To add color to your parts without the extra step of painting, stir a few drops of UV-resistant pigments (sold separately) into your coating mixture. The pigments are UV-stable, which keeps the color from fading, warping, or cracking when exposed to sunlight.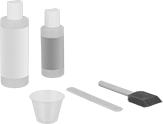 Size,




oz.

Type
Material
Form
Composition

Touch,




min.

O'all,




hrs.

Approximate
Coverage @
Thickness
Mixing
Ratio

Max.




Temp.

Application


Temp.

For
Use
Outdoors
For
Use
On
Color


(Appearance)

Each
6.4
Bottle
Plastic
Liquid
Solvent Based
10
4
4 sq. ft. @ 0.02"
2:1
49° C
120° F
18° to 60° C

64° to 140° F

No
ABS Plastic, Cardboard, EPDM Rubber, Fabric, Paper, PLA, Plaster, Polystyrene Plastic, Urethane Foam, Wood
Clear (Gloss)
000000
000000
24
Bottle
Plastic
Liquid
Solvent Based
10
4
15 sq. ft. @ 0.02"
2:1
49° C
120° F
18° to 60° C

64° to 140° F

No
ABS Plastic, Cardboard, EPDM Rubber, Fabric, Paper, PLA, Plaster, Polystyrene Plastic, Urethane Foam, Wood
Clear (Gloss)
000000
00000