A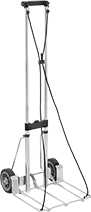 B
Tilt these trucks back to move loads, then fold them for easy transport and storage. Trucks include a shock cord to secure loads.
Style B have stair glides on the back that make it easier to move loads up and down stairs and over curbs.
Solid rubber wheels absorb shock, are quiet, and roll over smooth or rough surfaces.
Semi-pneumatic rubber wheels have added shock absorption.
Style

O'all




Cap.,

lbs.

Wd.

Dp.

Folded


Ht.

Ht.

Holding
Mechanism
Wheel
Configuration

Dia.

Material
Features
Each

Steel Frame

Solid Wheels

A
150
11

3/4

"
9

1/2

"
18

3/4

"
41"
Elastic Cord
Two Axle-Mounted Wheels
4"
Rubber
__
0000000
0000000
B
300
15

3/4

"
12

1/2

"
20"
48"
Elastic Cord
Two Axle-Mounted Wheels
6"
Rubber
Stair Glides
0000000
000000