Large-Platform

Steel Dollies
These strong, durable dollies have large platforms and wheels designed to handle pallets, machinery, large containers, and other heavy equipment.
Dollies with four swivel casters are easier to maneuver than dollies with six axle-mounted wheels. They have dual floor locks to prevent the dolly from shifting during loading and unloading. The wheels are nonmarking phenolic and roll best on smooth surfaces. Remove the handle for use with items that overhang the edge.
Dollies with six axle-mounted wheels have center wheels mounted lower than the end wheels for easier pivoting. Their rugged metal wheels roll best on smooth floors.
For technical drawings and 3-D models, click on a part number.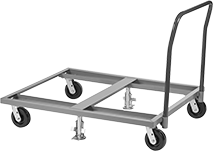 Four Swivel Casters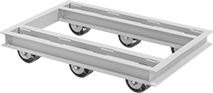 O'all




Cap.,




lbs.

Body
Material
Body
Color

Lg.

Wd.

Ht.

Lg.

Wd.

Handle


Ht.

Brake
Type
Caster
Mount
Type

Dia.

Type
Each
Each

Four Swivel Casters

3,600
Powder-Coated Steel
Gray
48"
48"
9"
45"
35"
38"
Floor Lock
Replaceable
6"
Solid
000000
0000000
000000
00
6,000
Powder-Coated Steel
Yellow
36"
24"
6

1/4

"
33

3/16

"
12

1/2

"
__
None
__
5"
Solid
000000
000000
0000000
000000
10,000
Powder-Coated Steel
Yellow
60"
36"
8

1/2

"
56

3/16

"
21

13/16

"
__
None
__
8"
Solid
000000
00000000
0000000
00000
Dia.

Wd.

Mount


Ht.

Cap.

per


Caster,

lbs.

Wheel/Tread


Material
Frame
Material
Each
6"
2"
7

1/2

"
900
Phenolic Plastic
Steel
0000000
000000