Stable-Ride

Side-by-Side

Double-Cylinder

Trucks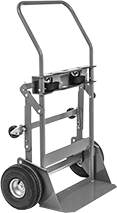 These trucks have rear legs with swivel casters for additional stability and better mobility when moving two cylinders. Quick-tight straps secure cylinders for safe transport. Their rubber wheels provide a cushioned ride over rough surfaces.
Optional locking posts fit into slots on the frame of the truck and over the collar of cylinders for additional securement.
Optional tool trays attach to the body.
For

Max.


Cylinder


Dia.

O'all




Cap.,




lbs.

Wd.

Dp.

Handle


Ht.

Holding
Mechanism


Ht.

Wheel
Configuration
Caster
Mount
Type

Dia.

Material
Type
Each
Each

Gray

Powder-Coated

Steel Frame

12"
1,000
20

3/4

"
10"
47"
28"
Two Swivel Casters and Two Axle-Mounted Wheels
Replaceable
10

1/2

" (Front)
3" (Rear)
Rubber
Pneumatic (Front)
Solid (Rear)
0000000
0000000
00000000
000000