Steel Drum Dispensing Trucks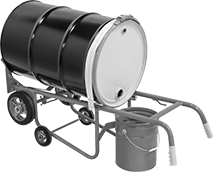 Shown in Dispensing Position
Because these trucks tilt and roll like a hand truck they are easier to move than mobile drum dispensing stands. They are suited for long distance moves. Tilt them flat to dispense. Handle grips make the handles more comfortable.
Style A have a hook-style grabber that attaches to the rim of the drum for a secure hold and wedges that slide under the drum for easy loading. When in the dispensing position, rollers on the frame allow you to rotate the drum for mixing. For use with steel drums.
Style B has a polyester strap with spring-loaded cinching buckle to secure the drum, extra-wide load wedges for easy loading, and a kickstand to keep the truck standing. They can be used with fiber, plastic, and steel drums.
Use trucks with polypropylene wheels on smooth surfaces. Trucks with rubber wheels absorb shock to roll over smooth or rough surfaces. Trucks with steel wheels are rugged, but noisy and can damage floors. They work best on smooth surfaces.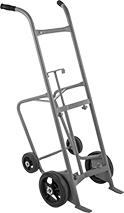 A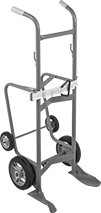 B

Kickstand
Style
Type

Cap.,




gal.

Dia.

Ht.

O'all




Cap.,




lbs.

Dispensing


Ht.

Wd.

Ht.

Body
Color

Dia.

Material
Type
Each

Painted Steel

A
Steel
55, 85
18"-26"
30"-40"
1,000
14"
25"
62"
Orange
10" (Front)
6" (Rear)
Polypropylene Plastic
Solid
0000000
0000000
A
Steel
55, 85
18"-26"
30"-40"
1,000
14"
25"
62"
Orange
10" (Front)
6" (Rear)
Rubber
Tread on Core
0000000
000000
A
Steel
55, 85
18"-26"
30"-40"
1,000
14"
25"
62"
Orange
10" (Front)
6" (Rear)
Steel
Solid
0000000
000000
B
Fiber, Plastic, Steel
30, 55, 85
19"-28"
33"-40"
1,000
16

1/2

"
24"
57

1/2

"
Orange
10" (Front)
6" (Rear)
Polyolefin Plastic
Tread on Core
000000000
000000
B
Fiber, Plastic, Steel
30, 55
17"-23"
34"-38"
1,000
15"
23

3/4

"
58"
Orange
10" (Front)
6" (Rear)
Rubber
Tread on Core
0000000
000000
Replacement Straps for Style B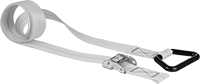 Replacement Strap