Quick-Open

Duct Access Panels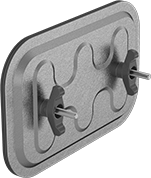 A

B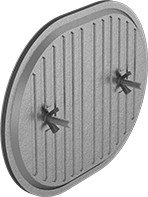 C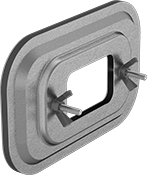 D
E
The panels open and close by turning the knobs. Also known as cleanouts, panels cover cutouts in duct to provide access for inspection and cleaning. They're made of galvanized steel for good corrosion resistance. All have a gasket to create a tight seal. Use the included template to make the cutout.
Style D panels have an observation view port that lets you quickly see if dust or debris is blocking the airflow in your duct without having to open the panel.
For technical drawings and 3-D models, click on a part number.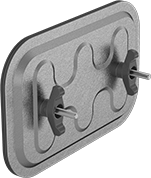 A

B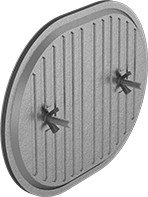 C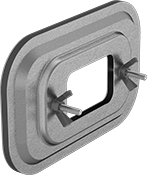 D
Ht.

Wd.

Ht.

Wd.

Ht.

Wd.

Gauge

Min.

Max.

Features
Mount
Type
Each

Galvanized Steel Panel and

Black-Coated

Steel Frame

A
10"
14"
6"
10"
__
__
22
Not Rated
2300°
__
Clamp On
00000000
0000000
A
12"
16"
8"
12"
__
__
22
Not Rated
2300°
__
Clamp On
00000000
000000

Galvanized Steel Panel and Frame

A
10"
14"
6"
10"
__
__
22
-20°
200°
Insulated Backing
Clamp On
0000000
00000
A
12"
16"
8"
12"
__
__
22
-20°
200°
Insulated Backing
Clamp On
0000000
00000
A
18"
22"
14"
18"
__
__
20
-20°
200°
Insulated Backing
Clamp On
0000000
000000
B
8"
12"
4"
8"
__
__
22
-20°
200°
Insulated Backing
Clamp On
00000000
00000
C
16"
20"
12"
16"
__
__
20
-20°
200°
Insulated Backing
Clamp On
00000000
000000
C
22"
28"
18"
24"
__
__
18
-20°
200°
Insulated Backing
Clamp On
0000000
000000
D
10"
14"
6"
10"
2

5/8

"
4"
22
-20°
200°
Observation View Port
Clamp On
00000000
00000
D
16"
20"
12"
16"
8"
8"
22
-20°
200°
Insulated Backing, Observation View Port
Clamp On
00000000
000000
E
For Duct
Trade Size

Ht.

Wd.

Gauge

Min.

Max.

Features
Mount Type
Each

Galvanized Steel Panel and Frame

E
5-6
4"
8"
22
-20°
200°
Insulated Backing
Clamp On
00000000
000000
E
6-7
6"
10"
22
-20°
200°
Insulated Backing
Clamp On
000000
00000
E
7-9
4"
8"
22
-20°
200°
Insulated Backing
Clamp On
00000000
00000
E
8-9
6"
10"
22
-20°
200°
Insulated Backing
Clamp On
000000
00000
E
10-11
4"
8"
22
-20°
200°
Insulated Backing
Clamp On
00000000
00000
E
10-11
8"
12"
22
-20°
200°
Insulated Backing
Clamp On
00000000
000000
E
10-12
6"
10"
22
-20°
200°
Insulated Backing
Clamp On
000000
00000
E
12-14
4"
8"
22
-20°
200°
Insulated Backing
Clamp On
00000000
00000
E
12-14
8"
12"
22
-20°
200°
Insulated Backing
Clamp On
0000000
000000
E
13-14
6"
10"
22
-20°
200°
Insulated Backing
Clamp On
000000
00000
E
15-16
6"
10"
22
-20°
200°
Insulated Backing
Clamp On
000000
00000
E
15-16
8"
12"
22
-20°
200°
Insulated Backing
Clamp On
00000000
000000
E
15-16
12"
16"
20
-20°
200°
Insulated Backing
Clamp On
00000000
000000
E
17-18
8"
12"
22
-20°
200°
Insulated Backing
Clamp On
00000000
000000
E
17-18
12"
16"
20
-20°
200°
Insulated Backing
Clamp On
00000000
000000
E
17-20
6"
10"
22
-20°
200°
Insulated Backing
Clamp On
000000
00000
E
19-20
8"
12"
22
-20°
200°
Insulated Backing
Clamp On
00000000
000000
E
19-20
12"
16"
20
-20°
200°
Insulated Backing
Clamp On
00000000
000000
E
21-22
12"
16"
20
-20°
200°
Insulated Backing
Clamp On
00000000
000000
E
21-24
6"
10"
22
-20°
200°
Insulated Backing
Clamp On
000000
00000
E
23-24
12"
16"
20
-20°
200°
Insulated Backing
Clamp On
00000000
000000
E
25-28
6"
10"
22
-20°
200°
Insulated Backing
Clamp On
000000
00000
E
25-28
12"
16"
20
-20°
200°
Insulated Backing
Clamp On
00000000
000000
E
29-32
12"
16"
20
-20°
200°
Insulated Backing
Clamp On
0000000
000000
E
29-32
18"
24"
18
-20°
200°
Insulated Backing
Clamp On
00000000
000000
E
33-36
12"
16"
20
-20°
200°
Insulated Backing
Clamp On
00000000
000000