DFARS (Defense Acquisition Regulations Supplement)

DFARS

(Defense

Acquisition

Regulations

Supplement)
REACH (Registration, Evaluation, Authorization and Restriction of Chemicals)

REACH

(Registration,




Evaluation,

Authorization
and Restriction of

Chemicals)
RoHS (Restriction of Hazardous Substances)

RoHS

(Restriction

of
Hazardous

Substances)
Drill Bit Decimal Size Equivalents
Core Drill Bits for Glass and Ceramic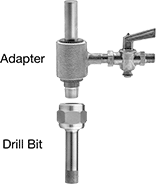 Reduce the chance of chipping and cracking when drilling in glass and ceramic. These hollow bits are diamond-coated for long life and fast cutting. They are for use in drill presses only and require an adapter (sold separately). Attach the threaded nut to the adapter, then install the adapter into the chuck on a drill press. Coolant, such as water, is required when drilling with these bits. The size listed is the bit's OD.
Drill press adapters attach to a water line, which acts as coolant during drilling, and include an on/off valve. Both adapters work with all of these drill bits, but choose the shank size that fits your application.
For technical drawings and 3-D models, click on a part number.