Drill Bit Cases
Store and organize drill bits so they stay in good working condition and don't go missing. These cases have individually marked holes for each size in your set.
Steel cases have stands that fold in and out. Stand them up when you need them, then fold them back into the slim case for storage inside a workbench drawer.
Plastic cases have screw-on lids to block out moisture. Compared to steel cases, they're lighter, and they resist rust and dents. Clip them onto your belt to take with you on the job.
For technical drawings and 3-D models, click on a part number.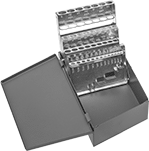 Steel
No.


of
Size

Lg.

Wd.

Ht.

Each

For Inch Drill Bits

For

Jobbers'

Length Class

13

1/16

"-

1/4

" (increments of

1/64

")
5

3/8

"
4"

3/8

"
0000000
00000
15

1/16

"-

1/2

" (increments of

1/32

")
7"
4"
1

1/4

"
0000000
00000
16

1/64

"-

1/4

" (increments of

1/64

")
5

3/8

"
4"

3/8

"
0000000
00000
21

1/16

"-

3/8

" (increments of

1/64

")
6"
4"
1

1/8

"
0000000
00000
29

1/16

"-

1/2

" (increments of

1/64

")
7"
4"
1

3/4

"
0000000
00000

For Short Length Class

29

1/16

"-

1/2

" (increments of

1/64

")
7"
4"
1

3/4

"
0000000
00000

For Extended Length

Class—

8"

Max.

Lg.

29

1/16

"-

1/2

" (increments of

1/64

")
8

3/4

"
4"
1

3/4

"
0000000
00000

For Reduced Shank Length

Class—

1/2"

Shank Size

8

9/16

"-1" (increments of

1/16

")
8

1/2

"
6

1/4

"
2"
0000000
00000

For Wire Gauge Drill Bits

For

Jobbers'

Length Class

20
80-61 ga
2"
1

1/2

"

1/4

"
0000000
0000
60
60-1 ga
4

1/2

"
3

1/4

"
1"
0000000
00000

For Short Length Class

60
60-1 ga
4

1/2

"
3

1/4

"
1"
0000000
00000

For Letter Drill Bits

For

Jobbers'

Length Class

26
A-Z
7"
4"
1

3/4

"
0000000
00000

For Short Length Class

26
A-Z
7"
4"
1

3/4

"
0000000
00000

For Metric Drill Bits

For

Jobbers'

Length Class

13
1.0-7.0 mm (increments of 0.5 mm)
5

1/2

"
4"

1/2

"
0000000
0000
19
1.0-10.0 mm (increments of 0.5 mm)
6"
4"
1

1/8

"
0000000
00000
25
1.0-13.0 mm (increments of 0.5 mm)
7"
4"
1

3/4

"
0000000
00000
41
6.0-10.0 mm (increments of 0.1 mm)
7

1/8

"
4

1/2

"
2

1/2

"
0000000
00000
50
1.0-5.9 mm (increments of 0.1 mm)
4

1/2

"
3

1/4

"
1"
0000000
00000

For

Inch,

Wire

Gauge,

Letter Drill Bits

For

Jobbers'

Length Class

19

1/16

",

1/2

",

1/4

",

1/8

", 21 ga, 25 ga,

27/64

",

29 ga,

3/16

",

3/32

",

3/8

",

5/16

",

5/32

",

5/64

", 7 ga,

7/16

",

7/32

", F, U

7"
4"
1

1/4

"
0000000
00000
115

1/16

"-

1/2

" (increments of

1/64

"), 60-1 ga, A-Z
13

1/2

"
4

5/8

"
2

1/4

"
0000000
00000
135

1/16

"-

1/2

" (increments of

1/64

"), 80-1 ga, A-Z
13

1/2

"
4

5/8

"
2

1/4

"
0000000
00000

For Short Length Class

115

1/16

"-

1/2

" (increments of

1/64

"), 60-1 ga, A-Z
4

5/8

"
13

1/2

"
2

1/4

"
0000000
00000

For

Inch,

Wire

Gauge,

Metric Drill Bits

For

Jobbers'

Length Class

134
1.0-13.0 mm (increments of 0.5 mm),

1/16

"-

1/2

" (increments of

1/64

"), 80-1 ga
13

1/2

"
4

5/8

"
2

1/4

"
0000000
00000