Drill Bit Decimal Size Equivalents
About Counterbores

Counterboring—Enlarge the top of an existing hole to create a cylindrical-shaped opening with a flat bottom that acts as a seat for the head of a screw or wood plug.
Drill-Bit

Counterbores with Drill Bit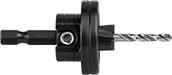 Shown with Optional Rotating Depth Stop
(Sold Separately)

Counterbore
These counterbores are attached to a drill bit for drilling and counterboring in a single step. Use them to create flat bottomed holes that act as seats for the heads of lag screws, washer head screws, and tee nuts. All have a 1/4" hex shank that fits quick-change drill chucks, power screwdrivers, and impact drivers. Lock the drill bit in place with the included set screw. For tough resistance to wear, corrosion, and heat, the drill bit is titanium nitride (TiN) coated.
Use the optional rotating depth stops to drill holes to a precise depth. The end of the collar has a ring that rotates separately from the body. When the ring touches your workpiece, it stops moving to prevent scratches or rub marks. The wide opening leaves room for chips to clear the drilling area.
Body


Dia.

Drill
Bit
Size
Overall


Lg.

Max.

Hole
Drilling


Dp.

Type
Size
Drill
Bit
Material
Number
of
Flutes
For
Use
On
Each

1-5

6-Up

3/8

"

1/8

"
2

7/8

"
1.1"
Hex

1/4

"
Titanium Nitride (TiN) Coated High-Speed Steel
3
Aluminum, Brass, Plastic, Wood
0000000
000000
0000000
00000
00000

1/2

"

1/8

"
2

7/8

"
1.2"
Hex

1/4

"
Titanium Nitride (TiN) Coated High-Speed Steel
3
Aluminum, Brass, Plastic, Wood
0000000
00000
0000000
0000
0000

5/8

"

3/16

"
3

1/4

"
1.3"
Hex

1/4

"
Titanium Nitride (TiN) Coated High-Speed Steel
3
Aluminum, Brass, Plastic, Wood
0000000
00000
0000000
0000
0000

5/8

"

1/4

"
3

21/32

"
2.7"
Hex

1/4

"
Titanium Nitride (TiN) Coated High-Speed Steel
3
Aluminum, Brass, Plastic, Wood
00000000
00000
0000000
0000
0000

3/4

"

3/16

"
3

1/4

"
1.3"
Hex

1/4

"
Titanium Nitride (TiN) Coated High-Speed Steel
3
Aluminum, Brass, Plastic, Wood
0000000
00000
0000000
0000
0000

3/4

"

1/4

"
3

5/8

"
1.6"
Hex

1/4

"
Titanium Nitride (TiN) Coated High-Speed Steel
3
Aluminum, Brass, Plastic, Wood
0000000
00000
0000000
0000
0000
Each

1-2

3-Up

3/4

"

5/16

"
3

31/32

"
3"
Hex

1/4

"
Titanium Nitride (TiN) Coated High-Speed Steel
3
Aluminum, Brass, Plastic, Wood
00000000
00000
0000000
0000
0000
1"

7/16

"
4

11/16

"
3.7"
Hex

1/4

"
Titanium Nitride (TiN) Coated High-Speed Steel
3
Aluminum, Brass, Plastic, Wood
00000000
00000
0000000
00000
00000
| | | | |
| --- | --- | --- | --- |
| Optional Rotating Depth Stop for 3/8", 1/2" Body Dia. Counterbores | 0000000 | Each | 000000 |