Drill Bit Decimal Size Equivalents
Hex-Shank

Masonry Drill Bits for Tapping Screw Installation
Insert these bits directly into power screwdrivers, impact drivers, and other tools that accept 1/4" hex shanks. Each is precisely sized to match the tolerances necessary to achieve maximum holding strength from tapping screws. They have a built-in hex collar that acts as a stop for repeatable drilling depths. The split point keeps the bit centered without a pilot hole.
A drive sleeve (sold separately) slides over the drill bit to drive fasteners without removing the drill bit from the tool. One end engages with the hex-collar on the drill bit, while the other end holds a screwdriver bit.
For technical drawings and 3-D models, click on a part number.

For Screw
Size

Size
Decimal Size
Equivalent
Overall


Lg.

Max.


Drilling

Dp.

Type
Size
Point
Style
For
Use On
Each

Black-Oxide

Carbide-Tipped

Steel

3/16

"

5/32

"
0.1563"
4"
1.60"
Quick-Change Hex

1/4

"
Split
Masonry
0000000
00000

3/16

"

5/32

"
0.1563"
5"
2.55"
Quick-Change Hex

1/4

"
Split
Masonry
0000000
0000

1/4

"

3/16

"
0.1875"
4"
1.70"
Quick-Change Hex

1/4

"
Split
Masonry
0000000
0000

1/4

"

3/16

"
0.1875"
5"
2.60"
Quick-Change Hex

1/4

"
Split
Masonry
0000000
0000

1/4

"

3/16

"
0.1875"
6"
3.85"
Quick-Change Hex

1/4

"
Split
Masonry
0000000
0000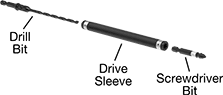 Shown with Drill Bit and Screwdriver Bit
(Not Included)

Type
Size
Overall


Lg.

Material
Each
Hex

1/4

"
6"
Black-Oxide High-Speed Steel
0000000
000000