Hex-Shank

Tap Sets for Drills and Screwdrivers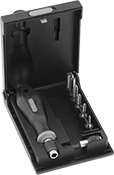 Multiple tap sizes allow tapping a range of hole diameters. The taps in these sets connect directly to the included screwdriver and other tools that accept a 1/4" hex shank, such as drills and power screwdrivers. They're made of high-speed steel and are for use on most metal and plastic. With a plug chamfer, they're good for start-to-finish tapping, but they'll require space at the bottom of closed-end holes for chips to accumulate.
For technical drawings and 3-D models, click on a part number.
No.

of
Pieces
Chamfer
Type
Tap Sizes
Included

No.

of
Flutes
Hex Shank
Size
Includes
Each

Uncoated

High-Speed

Steel

8
Plug
M3 × 0.5 mm
M4 × 0.7 mm
M5 × 0.8 mm
M6 × 1.0 mm
M8 × 1.25 mm
M10 × 1.5 mm
4

1/4

"

1/4

" Hex Shank Extension,

1/4

" Bit Screwdriver
0000000
0000000