Chip-Clearing

Tap and Drill Bit Sets for

Through-Holes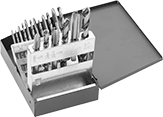 Also known as gun taps, the taps in these sets have spiral-point flutes that push chips ahead of the tap and out of through holes. Because they don't need to be reversed to prevent buildup, they produce threads more efficiently than standard taps and are suitable for production work. Taps have a square shank for compatibility with tap wrenches and tap holders for drill presses and milling machines. With a plug chamfer, they have 3-5 chamfered cutting threads, so they're suitable for start-to-finish tapping. All taps and drill bits are made of high-speed steel for use on most metal and plastic.
For technical drawings and 3-D models, click on a part number.
No.


of
Pieces
Chamfer
Type
Tap
Sizes
Included
Thread
Type

No.


of
Flutes
Pitch


Dia.


Limit
Drill Bit
Sizes
Included
Drill
Bit
Material
Container
Type
Each

Gold Oxide

High-Speed

Steel

18
Plug
M2.5 × 0.45 mm
M3 × 0.5 mm
M3.5 × 0.6 mm
M4 × 0.7 mm
M5 × 0.8 mm
M6 × 1.00 mm
M8 × 1.25 mm
M10 × 1.5 mm
M12 × 1.75 mm
Metric
2, 3
D3, D4, D5, D6
2.05 mm
2.5 mm
2.9 mm
3.3 mm
4.2 mm
5 mm
6.7 mm
8.5 mm
10.2 mm
Gold Oxide High-Speed Steel
Metal Case
00000000
0000000