About Counterbores

Counterboring—Enlarge the top of an existing hole to create a cylindrical-shaped opening with a flat bottom that acts as a seat for the head of a screw or wood plug.
Metric Size
Drill-Point

Counterbores

The same tool lets you drill and counterbore holes with enough clearance for socket head screws.
For
Screw


Size,

mm

Body,


mm
Shank
Drill


Tip,


mm
Overall


Lg.

Number
of
Flutes
For
Use
On
Each

Uncoated

High-Speed

Steel

4
7.54

1/4

"
4.36
1

13/32

"
2
Aluminum, Brass, Bronze, Iron, Plastic, Stainless Steel, Steel
00000000
000000
Hex-Shank

Combination Drill

Bit/Tap


Sets for Drills and Screwdrivers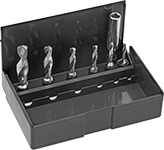 Drill and tap holes in a range of diameters. With a drill bit point to drive into the workpiece, these tools can drill and tap holes in a single step. Connect them directly to drills, power screwdrivers, and other tools that accept a 1/4" hex shank. They're made of high-speed steel and are for use on most metal and plastic. Their spiral flutes keep chips clear by drawing them back toward the tap and out of the hole. Recommended for use in through holes, all have a plug chamfer with 3-5 chamfered cutting threads, so they're suitable for start-to-finish tapping.
No.


of
Pieces
Chamfer
Type
Tap
Sizes
Included

No.


of
Flutes
Drill Bit
Sizes
Included
Container
Type
Includes
Each

Uncoated

High-Speed

Steel

7
Plug
M3 × 0.5 mm
M4 × 0.7 mm
M5 × 0.8 mm
M6 × 1.0 mm
M8 × 1.25 mm
M10 × 1.5 mm
2

3/32

"


1/8

"


11/64

"


13/64

"


17/64

"


31/64

"
Plastic Case
Chuck
0000000
0000000