Drill Bit Decimal Size Equivalents
Carbide Drill Bits with Coolant Holes

Holes in these bits allow coolant to be run through the tool for more efficient chip evacuation. Use them in CNC machines with coolant-through technology. Made of solid carbide for the highest accuracy and longest tool life, they are harder, stronger, and more wear resistant than high-speed steel, cobalt steel, and carbide-tipped bits. They retain a sharp, hard edge at high temperatures for the best performance on hard and abrasive material. A titanium aluminum nitride (TiAlN) coating gives them additional wear and temperature resistance. The four-facet point keeps the bit centered without a pilot hole. These bits require rigid toolholding to prevent breakage and should not be used in hand-held drilling applications.
Maintenance-length drill bits are shorter and more rigid than jobbers'-length bits but longer than short-length bits. They hold up better than jobbers' bits when drilling in hard metal. Also known as mechanics' bits.
For technical drawings and 3-D models, click on a part number.
Size
Decimal Size
Equivalent
Overall


Lg.

Max.


Drilling

Dp.

Type
Size
Point Style

No.

of Coolant
Holes
For Use On
Each

Titanium-Aluminum-Nitride

(TiAlN)

Coated Carbide

9/64

"
0.1406"
2

1/16

"
0.75"
Round

9/64

"
Four Facet
2
Steel, Hardened Steel, Tool Steel, Iron, Stainless Steel, Nickel, Titanium, Fiberglass
00000000
000000
Chip-Clearing

Tap and Drill Bit Sets for

Through-Holes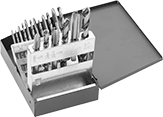 Also known as gun taps, the taps in these sets have spiral-point flutes that push chips ahead of the tap and out of through holes. Because they don't need to be reversed to prevent buildup, they produce threads more efficiently than standard taps and are suitable for production work. Taps have a square shank for compatibility with tap wrenches and tap holders for drill presses and milling machines. With a plug chamfer, they have 3-5 chamfered cutting threads, so they're suitable for start-to-finish tapping. All taps and drill bits are made of high-speed steel for use on most metal and plastic.
No.


of
Pieces
Chamfer
Type
Tap
Sizes
Included
Thread
Type

No.


of
Flutes
Pitch


Dia.


Limit
Drill Bit
Sizes
Included
Drill
Bit
Material
Container
Type
Each

Gold Oxide

High-Speed

Steel

18
Plug
6-40
8-36
10-24
10-32


1/4

"-28


5/16

"-24


3/8

"-24


7/16

"-20


1/2

"-20
UNF
2, 3
H2, H3

29/64

"


25/64

"
33 ga.
29 ga.
25 ga.
21 ga.
3 ga.
I
Q
Gold Oxide High-Speed Steel
Metal Case
00000000
0000000