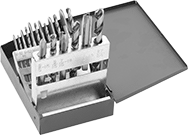 Drill and tap a variety of hole sizes. These taps and drill bits are for use on metal and plastic.
Carbon steel taps are for thread repair and occasional tapping.
High-speed steel taps and drill bits have a longer tool life than carbon steel. Uncoated high-speed steel taps and drill bits are strong enough for most jobs but don't last as long as other high-speed steel taps and drill bits. Use them for small-scale jobs.
Taper-chamfer taps have 7-10 chamfered threads at the tip for cutting into the workpiece. They require less torque than other chamfer types, making them a good choice for starting threads and tapping through holes. However, a longer taper means that they cannot thread as close to the bottom of closed-end holes.
Plug-chamfer taps are a versatile choice for most tapping applications. With 3-5 chamfered cutting threads, they require moderate torque and are often used for start-to-finish tapping of through holes and closed-end holes. However, they do not start threads as easily as taper chamfers. When using them to tap closed-end holes, be sure to leave sufficient space at the bottom for chips to accumulate.
Bottoming-chamfer taps cut into the workpiece with just 1-2 chamfered threads. This short chamfer lets them thread holes closer to the bottom than other taps, but they require more torque to start threads.
No.


of
Pieces
Chamfer
Type
Tap
Sizes
Included

No.


of
Flutes
Drill Bit
Sizes
Included
Drill
Bit
Material
Container
Type
Includes
Each

Uncoated Carbon Steel Taps

29
Taper, Plug, Bottoming
3 each of sizes:
M3 × 0.50 mm
M4 × 0.70 mm
M5 × 0.80 mm
M6 × 1.00 mm
M8 × 1.25 mm
M10 × 1.50 mm
M12 × 1.75 mm
3, 4
2.5 mm
3.3 mm
4.2 mm
5.0 mm
6.8 mm
8.5 mm
10.2 mm
Black Oxide High-Speed Steel
Metal Case
Tap Wrench
0000000
0000000

Uncoated

High-Speed

Steel Taps

29
Taper, Plug, Bottoming
3 each of sizes:
M3 × 0.50 mm
M4 × 0.70 mm
M5 × 0.80 mm
M6 × 1.00 mm
M8 × 1.25 mm
M10 × 1.50 mm
M12 × 1.75 mm
3, 4
2.5 mm
3.3 mm
4.2 mm
5.0 mm
6.8 mm
8.5 mm
10.2 mm
Black Oxide High-Speed Steel
Metal Case
Tap Wrench
0000000
000000