Drill Bit Decimal Size Equivalents
SDS-Plus-Shank

Masonry Drill Bits for Rotary Hammers

Standard Point

The SDS-Plus shank has two deep slots and two shallow slots for use with SDS-Plus-drive rotary hammers. These bits cannot be used with SDS-Max-drive rotary hammers. Drill holes using simultaneous rotary and hammering action to break masonry material into tiny granules. This type of bit drills faster and penetrates material with less pressure than rotary-only bits. Also called percussion or impact bits.
For technical drawings and 3-D models, click on a part number.
Size
Decimal
Size
Equivalent
Overall


Lg.

Max.


Drilling


Dp.

Shank
Type
Specifications
Met
For
Use
On
Each

Uncoated

Carbide-Tipped

Steel

1/4

"
0.25"
26"
24"
SDS Plus
ANSI B212.15
Masonry, Concrete
000000
000000
Drill Bit Drawer Cabinets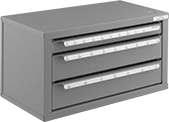 Store multiple bits of each size. These cabinets have drawers marked with the sizes and decimal equivalents. They can be stacked up to three high.
Compartments
Drawers
Size

Lg.


Class

Lg.

Wd.

Ht.

Includes
Material
Features
Each

For Metric Drill Bits

138
4
0.35-2.5 mm (increments of 0.05 mm)
2.6-10.0 mm (increments of 0.1 mm)
10.2 mm
10.5 mm
10.8 mm
11.0 mm
11.2 mm
11.5 mm
11.8 mm
12.0 mm
12.2 mm
12.5 mm
13.0 mm
Jobbers' Length, Short Length
26"
12"
12

1/2

"
Two Keys
Steel
Built-In Lock, Undivided bottom drawer for general storage
0000000
0000000

For

Inch,

Wire

Gauge,

Letter Drill Bits

159
4

1/16

"-

1/2

" (increments of

1/64

")
60-1 ga
A-Z
Jobbers' Length
26"
12"
12

1/2

"
Two Keys
Steel
Built-In Lock, Undivided bottom drawer for general storage
0000000
000000