Individual/Set

Individual/Set
Countersink Angle

Countersink Angle

DFARS (Defense Acquisition Regulations Supplement)

DFARS

(Defense

Acquisition
Regulations

Supplement)
Number of Pieces

Number of Pieces
Container Type

Container Type
Number of Countersinking Ends

Number of
Countersinking Ends
About Countersinks
Countersinks cut a cone-shaped opening to install screws and rivets flush with a surface or hold workpieces between centers on a lathe. They can also be used for chamfering and deburring.
Quick-Change

Combination Countersinking
Drill and Screwdriver Bit Sets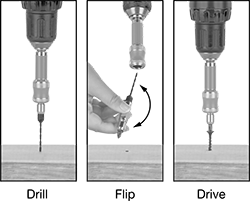 Fasten differently sized screws with these sets. They save you the effort of switching three separate bits in and out of a power tool, instead letting you flip between a countersinking drill and a screwdriver bit with a single hand. You can also attach your own countersinking drills and screwdriver bits as long as they have a 1/4" hex shank.
Countersinking drills have an 82° angle, allowing inch-sized flat- and oval-head screws to sit flush with the surface.
No.


of
Pieces
Includes
Countersink
Angle
Countersink
Body


Dia.

No.

of
Countersink
Flutes
Adapter
Hex
Shank Size
For
Use
On
Each

Black-Oxide

High-Speed

Steel Countersink

11
1 Drill-Bit Countersink for

3/32

" Drill Bit
1 Drill-Bit Countersink for

7/64

" Drill Bit
1 Drill Bit (

3/32

" Drill Bit Size)
2 Drill Bits (

7/64

" Drill Bit Size)
1 Phillips No. 1 Screwdriver Bit (1" O'all Lg.)
2 Phillips No. 2 Screwdriver Bits (1" O'all Lg.)
1 Reversible Shaft
1 Adapter
1 Hex L-Key
82°

3/8

"
4

5/16

"
Aluminum, Fiberglass, Plastic, Wood
0000000
000000