High-Temperature

Chimney Vents and Fittings
Built to withstand temperatures up to 1000° F, these vent pipes and fittings are for use with boilers, furnaces, stoves, and other equipment that is fired by gas, oil, wood, or coal.
To join pipes and connectors, twist a male end into a female end and secure with the included locking band.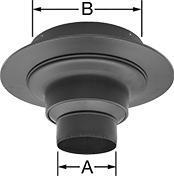 Ceiling supports fit into a joist opening framed on all four sides. Nail the support to the framing (nails not included).
Trade
Size

(A)

(B)

Gauge
Color
Includes
Specifications
Met
Each
Each
6
5

15/16

"
12

3/8

"
27
Black
Pipe-to-Duct Adapter
UL Listed

0000000
0000000
000000
00
8
7

15/16

"
14

3/8

"
27
Black
Pipe-to-Duct Adapter
UL Listed

0000000
000000
000000
00
10
9

15/16

"
16

1/4

"
27
__
Pipe-to-Duct Adapter
UL Listed

000000
00
0000000
0000000