Dust Mask Dispensers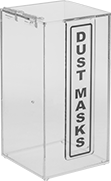 Mount this dispenser on the wall to stock up to 40 masks.
For Number
of Masks

Ht.

Wd.

Dp.

Material

Dia.

No.


of
Mounting
Fasteners Included
Each
40
12

1/2

"
6"
6"
Acrylic Plastic

3/8

"
2
No
00000000
000000
Metal-

and

X-Ray-Detectable

Disposable Mask Dispensers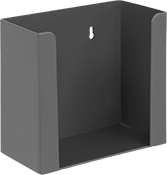 Organize and access masks safely near your line in food and pharmaceutical plants. Made with metal and chemical additives, these dispensers set off metal detectors and X-rays if any part falls into your line, so a contaminated batch won't leave your facility. This helps you comply with Hazard Analysis and Critical Control Point (HACCP) programs for food safety. Their bright blue color makes them easy to spot and retrieve. FDA compliant, they're also safe to touch food.
These dispensers hold masks that are 4 1/4" ht. × 8 1/4" wd. or smaller.
For
Number
of Masks
Height
Width
Depth
Material
Diameter
Number
of
Mounting
Fasteners
Included
Specifications
Met
Each
75
7

7/8

"
8

1/4

"
4

1/4

"
Polyolefin Plastic
1

3/4

"
2
No
FDA Compliant 21 CFR 177.1520, FDA Compliant 21 CFR 178.2010
0000000
000000