DIN-Rail

Mount Washdown Enclosures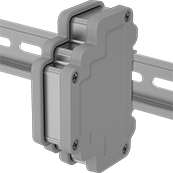 Enclosure Mounted on DIN Rail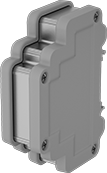 Enclosure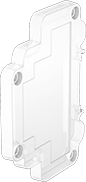 These enclosures shield electrical components from water, so they're safe to install onto DIN rail in wet and washdown environments. They also resist rusting when exposed to water since they are aluminum and have a polycarbonate cover. You can use them inside other enclosures for extra protection or to keep components separate. All have slots that hold up to three circuit boards. The circuit boards snap into place—no need for tools.
Add a see-through cover to these enclosures to inspect internal parts without removing the cover.
For technical drawings and 3-D models, click on a part number.
Height
Width
Depth
For DIN
Rail
Trade Size
Environment
Environmental
Rating
Includes
Specifications
Met
Each
Each

Aluminum with Polycarbonate Plastic Cover

2

3/4

"
3

7/8

"
1

1/8

"
DIN 3
Damp, Dusty, Washdown
IP66

End Cap Fasteners
UL 94 V-0

0000000
000000
00000000
00000
2

3/4

"
3

7/8

"
1

3/4

"
DIN 3
Damp, Dusty, Washdown
IP66

End Cap Fasteners
UL 94 V-0

0000000
00000
00000000
0000
2

3/4

"
3

7/8

"
2

3/8

"
DIN 3
Damp, Dusty, Washdown
IP66

End Cap Fasteners
UL 94 V-0

0000000
00000
00000000
0000
2

3/4

"
3

7/8

"
3

1/8

"
DIN 3
Damp, Dusty, Washdown
IP66

End Cap Fasteners
UL 94 V-0

0000000
00000
00000000
0000
2

3/4

"
3

7/8

"
4

7/16

"
DIN 3
Damp, Dusty, Washdown
IP66

End Cap Fasteners
UL 94 V-0

0000000
00000
00000000
0000
2

3/4

"
3

7/8

"
6

9/16

"
DIN 3
Damp, Dusty, Washdown
IP66

End Cap Fasteners
UL 94 V-0

0000000
00000
00000000
0000