About
Flame-Resistant

Arc-Rated

Personal Protection
Flame-

and

Arc-Flash-Protection

Base Layers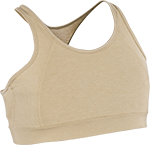 Wear these fitted garments under clothing for an added layer of protection against intermittent exposure to flames and radiant heat. They meet NFPA 70E standards for protection against electrical arc flashes for personal protection equipment (PPE) category 1 or 2. Check the PPE category and minimum arc rating provided for your workplace, and then select all required clothing and personal protective equipment to meet the minimum arc rating. Arc rating measures a garment's ability to insulate the wearer from burns; the higher the arc rating, the greater the flame resistance. All base layer materials are lightweight, breathable, and moisture wicking for added comfort.
They all comply with OSHA 29 CFR 1910.269 standards for flame and arc flash protection.
Modacrylic base layers dry quickly.
Size
Chest
Size
Cup
Size
S
32"/34"
A/B
M
34"/36"
B/C
L
36"/38"
C/D
XL
38"/40"
D/DD
2XL
40"
D/DD