Quick-Access

Machine Guards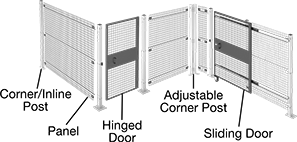 These panels lift on and off their posts in seconds, so you can protect machinery while providing access for maintenance. Panels can be permanently secured to the posts with the included clips.
When standing on the side of the door that swings away from you, left-hand doors open to the left; right-hand doors open to the right.
The assembled width measures the installed width of a panel or door when mounted with posts on each side.
For added protection around larger machines, choose 8 ft. high posts and 7' 6" high doors. To create taller panels, pair 5' 6" high panels with 2 ft. high panels of the same width and add them to the posts.
Mezzanine Gates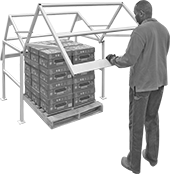 Pivoting from Loading to Unloading Position

Unloading Position
Keep personnel safe when transferring material between areas with different floor heights. When properly installed, they meet OSHA 29 CFR 1910.29 requirements for guardrail systems.
For technical drawings and 3-D models, click on a part number.
Ht.

Wd.

Dp.

Ht.

Wd.

Dp.

Wd.

Dp.

Top
Rail


Ht.

Toeboard


Ht.

Material
Color

No.


of

Dia.

Mounting
Hardware
Specifications
Met
Each
80"
68

1/2

"
79

1/4

"
78

3/8

"
56"
76

5/8

"
1

1/2

"
1

1/2

"
42

3/8

"
4"
Powder-Coated Steel
Yellow
16

7/16

"
Fasteners Not Included
OSHA Compliant 29 CFR 1910.29
0000000
000000000