Solar-Powered

Motion-Sensing

Security Lights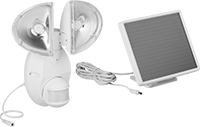 A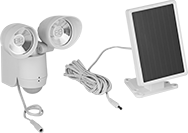 B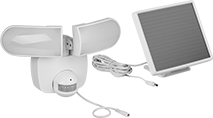 C

D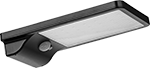 E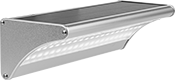 F
Powered by the sun, these security lights function in areas that don't have access to electricity. They're often used to shine light on parking lots, landscaping, signs, entryways, and other outdoor spaces. They turn on when they detect motion. These lights use a built-in LED bulb that lasts longer, is more efficient, and generates less heat than alternatives.
The solar panel is separate from style A, B, and C lights, so you can place the panel in direct sunlight while mounting the light in a shaded area. Even though they're detached from the panel, these lights have an integrated sensor that prevents them from turning on during the day.
The solar panel is built into the top of style D, E, and F lights, so there's no need to run wire between the two. These lights must be mounted in the sun so they can charge during the day.
Style E and F lights are protected from low-pressure jets of liquid such as water from a garden hose.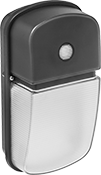 Also known as wall packs, these lights mount to exterior walls to illuminate building perimeters, entryways, loading docks, and other outdoor areas. No need for timers—a sensor automatically turns the light on at dusk and off at dawn. With built-in LEDs, these lights last longer, are more efficient, and generate less heat than other technologies. They produce a neutral white light appearance. The lens is prismatic to disperse light evenly, and made of durable, impact-resistant polycarbonate.
Equiv.

Metal
Halide Bulb
Wattage
Voltage

Brightness,


lumens
Light
Appearance
Wattage

Wd.

Ht.

Dp.

Environment
Mounting
Hardware
Included
Each
100W
120V AC
1,400
Neutral (4000K)
23W
5

3/8

"
10

1/2

"
3

1/2

"
Wet Location
Yes
00000000
0000000